Honey Studio Product Photography
Last week I had the pleasure of photographing more stationery for the lovely owner of The Honey Studio. She has just created a new range of products specifically for children and asked if I could take some new pictures for her website.
Photographing products in the comfort of my own studio is definitely one of my favourite parts of my job as I get the freedom to style and be as creative as I like and I also find it quite relaxing!
I had a lot of fun with these and here are the results.
I really enjoyed photographing these cute designs and if you have something similar that you'd like to showcase on your website and social media, please feel free to get in touch for a quote.
Stock Photography – Keeping It Simple
Todays blog is all about stock photography and a few tips on how to create the perfect image.
---
I've been a member of the free stock photography site Pexels for over a year now and I absolutely love coming up with new ideas and scenes to create the ideal images.
This week my theme has been " Keeping it Simple " and for me that means the less clutter, the better!
White backgrounds are really in at the moment and there are a lot of searches for images with a minimalistic style. The white space gives designers and bloggers enough room to add some text.
So find yourself a white wall and some plants and start experimenting! Not much editing is required either as all you need to do is adjust the highlights and shadows.
3 certainly isn't a crowd when it comes to minimalism! It fills up the empty space on the sides and is also pleasing to the eye! You don't even need 3 identical plants, the original image was the first plant on the left and I just duplicated it twice and changed the colours. So, if you have a basic knowledge of photoshop this is really easy to recreate.
If you go an any stock website, I guarantee there will be a lot of searches for laptops and working spaces.
Again, I wanted little clutter as possible because when there's too much going on in the background people tend to just scroll on past.
So if you're thinking of taking a picture of your working space to show off to people on your blog, Instagram or for stock purposes just make sure to declutter, because less is definitely more! <3
Everybody loves a good flatlay image! They're trendy, look pretty and are easy to create. But sometimes people throw way too much on their bed, carpet or table and then just snap.
For me it has to be planned, even down to putting the fruit in a bowl… it has to be neat and look nice.
Just make sure to lay everything out neatly and try different positions until you are happy.
There's nothing worse than seeing a flatlay image that looks rushed and thrown together.
Try shooting from different angles, you'd be suprised how different an image can look! Not everything has to be straight and perfect, you can also get more into your frame.
Entrepeneurs and business people love coffee and can relate to working with laptops or computers.
So what better way to sum up our lifestyle in this one picture! It's simple but effective.
I don't get paid for my stock photography as I give the images away to Pexels for free, for me it's not about money I just want to be able to help others find high quality images without the high price tag. And once a month I do a reverse search on Google to see where my images have been used and it just brings a smile to my face.
I hope you enjoyed this blog and if you have any questions please send me an email: lisa@indever.co.uk
Digital Illustrations
As you may know my main passion in life is photography! I love capturing the moment, meeting new clients and expressing myself through my work. But I also like to draw whenever I have some free time.
I've recently become unwell, so not being able to go out and take pictures has been a bit frustrating for me… and there is only so much indoor photography I can do.
To pass the time I decided to dabble in Photoshop to create some cute illustrations. I have been a complete novice in the past when it comes to digital drawings but I wanted to set myself a challenge.
The japanese style Kawaii ( cute ) has always been a favourite of mine and so that's the style I always try to achieve.
Here are some of the illustrations I've worked on this week… I hope you like them.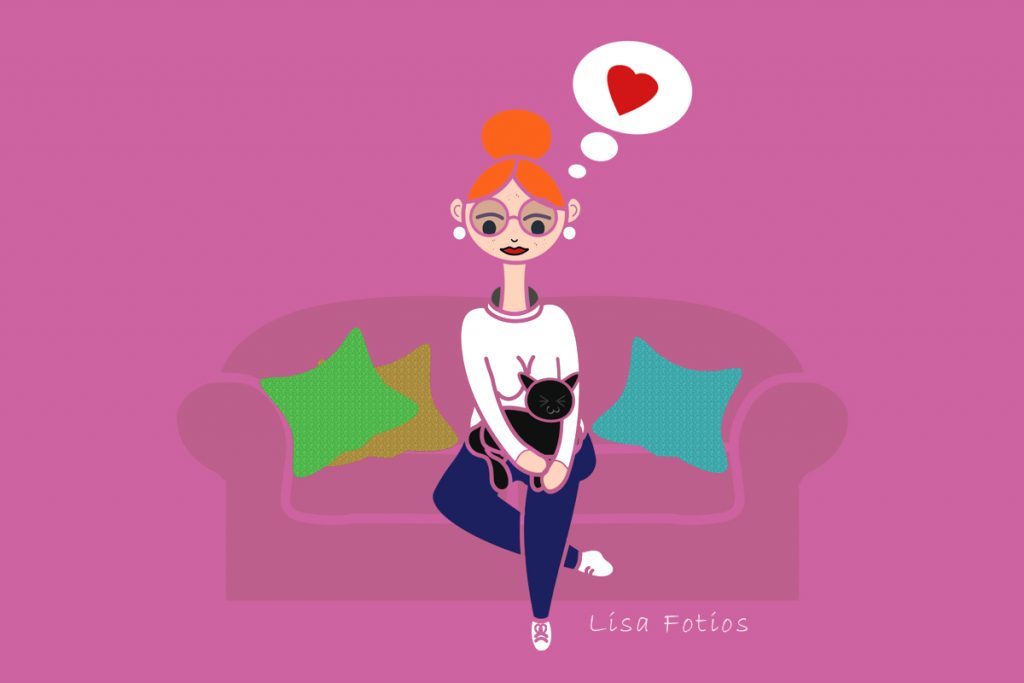 Ah, there's no better feeling than being snug on the sofa with your furry best friend!! Trying to draw the sofa was a challenge, but I got there in the end.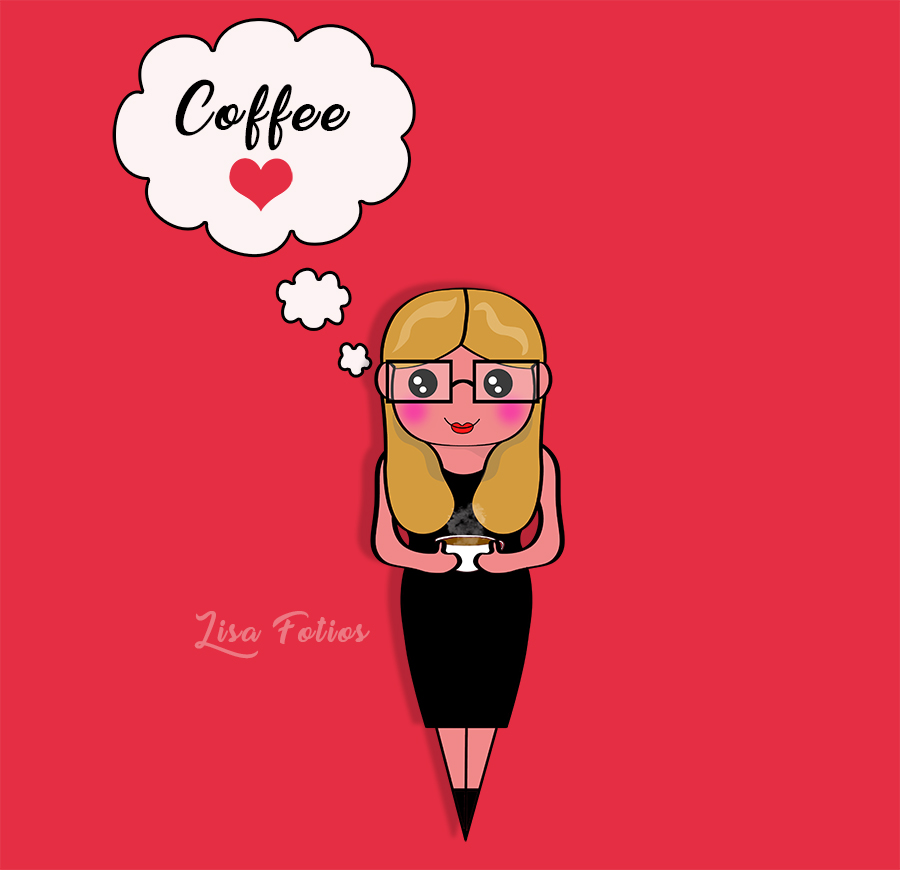 Being self-employed means you consume a lot of coffee….. so, here I am enjoying my fresh black Americano and thinking about how much I love it! 😛
I drew this the day after being told I needed plenty of bed rest, I must admit I wasn't feeling too great and this little fella cheered me up 🙂 I also wanted to try a different background instead of just a solid colour.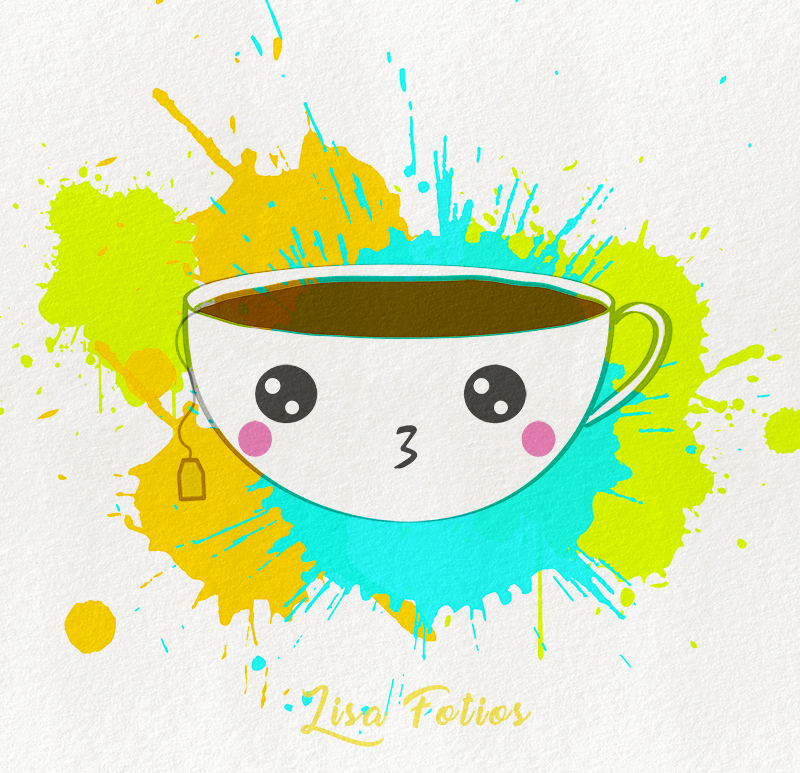 Here we have a nice cup of tea for a change! Again, trying a different style to achieve a watercolour look. I just love it's cute face.
I had so much fun creating these and I hope they put a smile on your face.
Thanks for reading and please feel free to email me if you have any questions lisa@indever.co.uk
Yugen Coffee House
A few months ago we ( Indever ) were contacted by Sono and Gavin who were looking for help to create a website for their new Coffee shop in Bangor.
They also wanted professional photos to help bring their brand to life and to give people a real look at what they had to offer. I love food photography so I couldn't wait to get started….
Here are just a few of my favourite shots from the photography shoot.
They have a variety of items on offer and they're all healthy and tasty!
They're also the only coffee shop in North Wales who use Allpress speciality coffee beans, which come from all around the globe.
As well as serving coffee, they also have specialty loose leaf teas from round the globe to allow you to unwind and relax, me and John tried some and it's absoloutly gorgeous <3
Gavin, the cofounder of Yugen Coffee House has always been passionate about coffee for as long as he can remember.
And until now had been making coffee as a hobby and had no intentions of opening up his own coffee house. But after months of hard work their vision finally came to life at the opening ceremony on Sunday.
We were honoured to be invited to celebrate this special moment and we also bumped into Judith Bond from Judith Bond Cakes, who supplied the cupcakes for the event.
It was a very successful opening and we highly recommend you pay them a visit if you are ever in Bangor.
For more information on where to find them and what's on the menu then why not visit their website: www.yugencoffeehouse.com
Sychnant Pass Photography
Saturday came around quick, once again! And as always it was time to decide what to do. After working hard in the office all week, it's nice to have a change of atmosphere and do a bit of exploring, so we decided to head over to Conwy and take it from there.
Before even considering going for a walk me and Mr. Fotios always have to stop off somewhere for a coffee first! As you can see I didn't get a picture of our coffees, so here are some coffee beans that I recently purchased instead! 😛
Once we finished our drinks we hopped back in the car and did some driving, until eventually we came across Sychnant Pass.
I'd all but forgotten about the area as it'd been so long since I had been there but the memories soon came flooding back of the many trips up there as a child with my Dad.
Sometimes you forget that you don't have to travel very far to get amazing views and outstanding natural beauty!
It had been a while since I'd been out to take pictures, and after a while I start to get itchy feet and need to be out in nature.
Luckily the hubby doesn't mind taking us whereever for me to fill my photography needs and he's also a very good model! :p
And he also doesn't mind taking pictures of me when I ask. After many shots and me being fussy I actually liked this one, which makes a change.
As you can see the views are stunning and I'll definitely be going back in the spring so I can explore more!
If you'd like any of the pictures as a print ( except for me and John, of course! ) then please get in touch lisa@indever.co.uk 
Feeling Fruity
There are some weekends where even if I try to relax, I can't and even when it's cold outside and pouring down with rain I can't help but want to take pictures.
The solution for not wanting a wet & damaged camera? Indoor photography!! Although, it can be difficult to find things to photograph.
But then I remembered that I had some tasty fruit in the fridge, so I decided to experiment. I'd recently brought one of my photography lamps home from the office and this was perfect for setting the ideal lighting as my flat can be quite dark.
When it comes to photographing anything up close I always use my 35mm prime lens and macro alternative screw on closeup lenses.
Personally I find the screw on lenses just as good as a macro lens and you can buy them on Ebay or Amazon for under £10…. ideal for the photographer on a budget!
You don't need to buy the most expensive equipment and all of the fancy lenses, it's what you do with the tools and budget you have that counts.
To get the shiny/glistening effect I sprayed the fruit with water and made sure the lamp caught the shine, which adds an extra dimension the picture.
The blueberries were definitely my favourite fruit to shoot! I love the dark purple and blue tones, they tasted good too! 😀
Something as simple as adding blueberries to a glass of water can make for an interesting image! <3
I always try to learn new techniques and try different photographic genres instead of just staying in my comfort zone with commercial and landscapes.
I really enjoyed styling and taking these shots and it goes to show that you can find inspiration anywhere!! So if you ever feel the itch to take pictures but can't go out because of bad weather, have a rummage around your kitchen and get snapping!
If you enjoyed this blog please let me know and share on social media.
Conwy Food And Drink Celebration At Bodnant Welsh Food Centre
November is Conwy business month and to kick off the celebration of local businesses their first event was in celebration of Conwy food and drink vendors.
The event was set up in the fantastic setting of Bodnant Welsh Food Centre and all local food producers were welcome guests.
I was asked by the council to come and photograph the event and of course I wasn't going to say no because (A) I love food and (B) I always want to support and capture our community spirit.
The event provided the opportunity to highlight, showcase, and celebrate Conwy Food and Drink, but it was also an opportunity for producers to engage, and network with industry leaders.
As you walked in you were greeted by the site of tables filled with delicious foods by local produce companies. There was a huge selection of cheese, chocolate, vegetables and much more by local well-known producers such as Castell Cheese, Llaeith and Edwards of Conwy.
As you can see there were many well-known producers at the event and it was great to see them all in one room, celebrating each others success and mingling.
The popular restaurant chain Dylan's were also showcasing some of their sauces and the producers of Grandma's cupboard beverages were also in attendance.
All guests were welcomed with a glass of wine and encouraged to have a look at the tables, whist they waited for their meal in the main dining area.
There were 3 guest speakers at the event from the local hospitality sector and they spoke about the importance of engaging with the food and drink sector to advance your business and identify the support available.
Afterwards the guests were treated to a 3 course award-winning meal, using ingredients from local suppliers such as Baravelli's chocolate for the dessert.
Once the meal was finished some people stayed and networked for the remainder of the evening.
I had a great time being part of and photographing such a fab event and I am looking forward to see what else Conwy business month has to offer.
if you would like a copy of any of the above photos then please send me an email to lisa@indever.co.uk
And don't forget to share this post!
Thank you 🙂
North Wales Sunsets
For me there is no better time to take a picture than in the evening, North Wales is stunning already! But, when you capture the sun going down on top of a mountain or on one of our many beaches the views are breath-taking.
I've taken many pictures of sunsets over time but, here are just a few that I have taken as recently as yesterday evening.
West Shore Beach, Llandudno, Nikon D5500, 35mm Prime Lens
Silhouettes, West Shore Beach, Llandudno, Nikon D5500, 35mm Prime Lens
Sheep On Top Of Deganwy Mountain, Nikon D5500, 18-140mm Lens
Looking towards LLandudno, Nikon D5500, 18-140mm Lens
More Sheep, Deganwy Mountain, Nikon D5500, 18-140mm Lens
Purple Skies, Deganwy Mountain, Nikon D5500, 18-140mm Lens
The Gate, Deganwy Mountain, Nikon D5500, 18-140mm Lens
One Of My Favourites, Eglwysbach, Nikon D5500, 18-140mm Lens
Morfa Beach, Conwy, Nikon D5500, 18-140mm Lens
Rhos – On – Sea, Nikon D5500, 18-140mm Lens
I hope you enjoyed viewing these images as much as I enjoyed taking them! 🙂
Please do not use any images on this post or my site without my permission!! If you would like to purchase any of these images then please email me
The Top 3 Things To Consider When Choosing Photos For Your Website
When creating a website, photography is often the last thing people think about. Photography can make or break a user's perception of the website and ultimately your brand. It is worthwhile putting the effort in to get it right, visitors to your website will look at the pictures before reading the text.
1. Avoid overusing stock photos
Stock photos are fine in small quantities. They are ideal if you are blogging regularly, but for the main pages on your website (Home, Services etc) you'll want real pictures of your business, products and services that represent who you are what you do.
WORST OFFENDERS:
Smiling models (solo, groups, meetings etc).
Generic handshakes (close ups).
Food (especially if you are a restaurant or cafe, get pictures of your own dishes!)
2. Don't use low quality pictures taken on your phone!
It is important to get high quality, high resolutions photos that fit into your website properly. Taking a photo on your phone can sometimes work, but they are obvious to spot and won't help portray a professional appearance for your business. You should always plan the pictures you want to use and where possible hire a photographer!
WORST OFFENDERS:
Low quality grainy images.
Blurry or out of focus.
Using default filters on Instagram!
Taking pictures of small rooms without a wide angle lens (guest houses etc).
3. Keep the pictures relevant
Relying on stock photos will usually mean the pictures aren't quite relevant to your message. Using custom photography will give you full control of the image you want to portray. People are more likely to respond to images that properly represent your products or services. Try to think about what visitors to your website want to see.
WORST OFFENDERS:
Stock photos for your products and services.
Stock photos of people that don't even work for your company!
Random pictures on a home page slider that don't really add anything.
Bonus Point: Google Images
Most people know this by now, but steer clear of taking pictures from Google! These images will most certainly be copyrighted and you can get into trouble!
To find out what photography services I offer please have a look here http://www.indever.co.uk/photography/
View my portfolio here http://www.lisafotiosphotography.co.uk/portfolio/commerical-work/
The Little Orme
One of the great things about living and working in North Wales is that you get to visit places like The Little Orme! I mean how lucky are we that these spectacular places are right on our doorstep?
Some people would travel for miles just to spend a few hours here! So, I'm very grateful to live so close to the coast and inland and can enjoy the best of both worlds. I am also very lucky being a photographer in this awesome part of the world.
As well as being lovely to look at The Little Orme also has quite the history so, here's a little about it from Wikipedia:
The Little Orme was inhabited during the Upper Paleolithic, notably the Pant y Wennol cave.

A small hoard of Iron Age Celtic metalwork was found in a cave on the Little Orme.
The medieval chapel of Blessed Mary of Penrhyn, abandoned in 1930 and now in ruins, is at the foot of the Little Orme in the grounds of Penrhyn Hall at Penrhyn Bay.
On 14 April 1587, printing material for Catholic literature was found in a cave on the Little Orme, where it had been used by the recusant Robert Pugh (squire of Penrhyn Hall) and his Chaplain Father William Davies to print Y Drych Cristianogawl (The Christian Mirror), the first book to be printed in Wales. They had taken refuge there during the persecution of Catholics instigated by Queen Elizabeth I in May 1586.
The Royal Artillery coastal gunnery school, 198 battery, was posted to Little Orme during the Second World War. Target practice was undertaken from the headland to anchored boats, and unspent ammunition and unexploded shells may still be encountered offshore. Gun emplacements and ancillary buildings were in situ until at least the early 1960s, but the site has since been 'landscaped'.
Parts of the Little Orme (notably the NWWT's Rhiwledyn Nature Reserve) are a Site of Special Scientific Interest. The North Wales Bird Trust is located on its lower slopes, and the Little Orme is a warden-patrolled sanctuary for sea birds. Bird viewing around the cliffs can be facilitated by trips using small boats.

The North Wales Path runs across the Little Orme, using the several public footpaths on its summit.

Unlike the Great Orme, the Little Orme has not been developed for copper mining or tourism. There has been limestone quarrying since the mid-19th century on the Penrhyn Bay side. It was centred on Porth Dyniewyd and served by its own narrow gauge railway, but quarrying ceased in 1936. There is some farming on the lower slopes.

The cliffs are a popular challenge for highly experienced rock climbers. The Coast Guard Rescue Unit use the Little Orme for training. Otherwise, it is a popular sightseeing location and walking/hiking site.
If you've made it this far, then I hoped you enjoyed the little history lesson!! And also I hope you liked the pictures.
Please do not use any of my pictures on this blog without asking 🙂